We know that this had came late but we would just like to recap Mochi Buddies 1st event with Public Garden in Year 2018.
Firstly, we would like to express our gratefulness for the overwhelming support. We had made so many wonderful new friends and even with supporters expressing their interest in my artwork. Word cannot express how thankful and joyful I was. Remember my art was to bring smiles? *Tears of joy*
It was really packed with people that day and I did not had a chance to snap a photo of my own booth. However, my secondary school friend took a really nice photo for me. Thanks Wendy! We wanted to go for a garden theme as Mochi Buddies loves playing and gathering in the garden.
We are serious about how packed it was. Really a big virtual hug to all those that had stopped by my booth~ Even though you may not had purchased something, I am thankful that you had stopped by to take a look.
We were also giving out stickers that day as a Christmas gift with no purchase required. The stickers that we had given out were our original Mochi Buddies design. Most of the characters were given out at the start of Day 2! I am glad that people had taken a couple because they loved it!~
Then we saw a cute little meimei got attracted to our merchandise! Aw how adorable!
We offered them the complimentary stickers and asked if they would like a photo taken. They were so supportive! Beautiful mother and daughter. Thank you *heart shape emoji*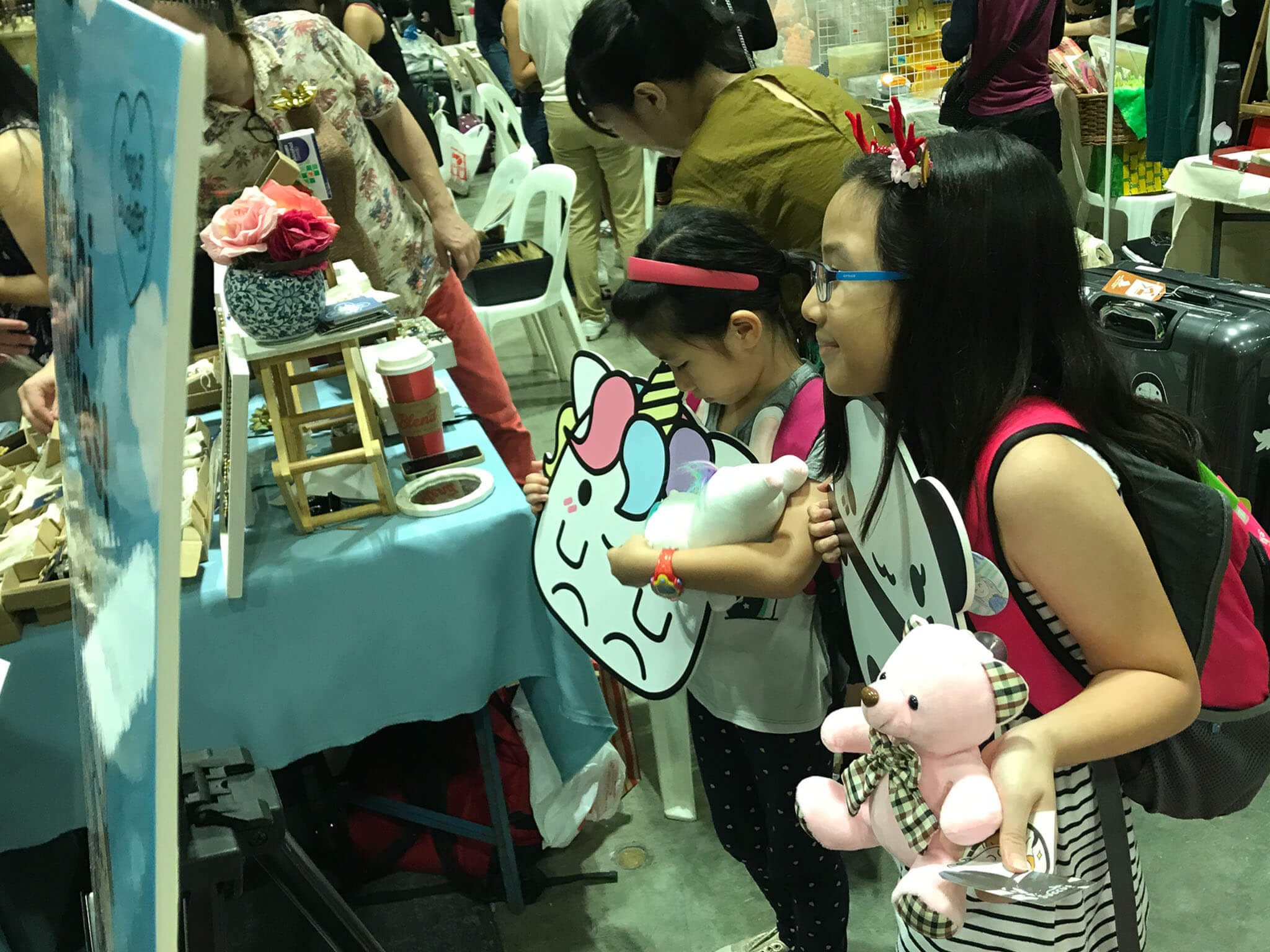 More kids loving Mochi Buddies! Aw this cute little girl with the red headband had sat beside me while I was fixing up a charm for her that was sold out. She watched patiently and I felt really appreciated. She thank me and hopped in joy when I passed her the finished product. My heart instantly melted.
How adorable! Cuteness 101~
momo is very popular amongst kids! Thankful for them wanting to take photos with my diecuts xo
Also, a really sweet couple! The guy is a fan of panpan and the lady is a fan of spottie! They were so kind and supportive. The guy came back on the second day to purchase more and told me his girlfriend loves Mochi Buddies. Heart Melts omg!
Summarising my post now~
I am really thankful for all the support from each and everyone of you! You guys were amazing, cheerful, supportive and motivating. It's my first event and to be honest, I was not expecting much from it. You guys gave me big hopes and huge love which I could never thank you guys enough.
I hope to see you guys in my upcoming event! xo
Signing off with love, Jean Kuah ?